Promotional Marketing in the Post-COVID World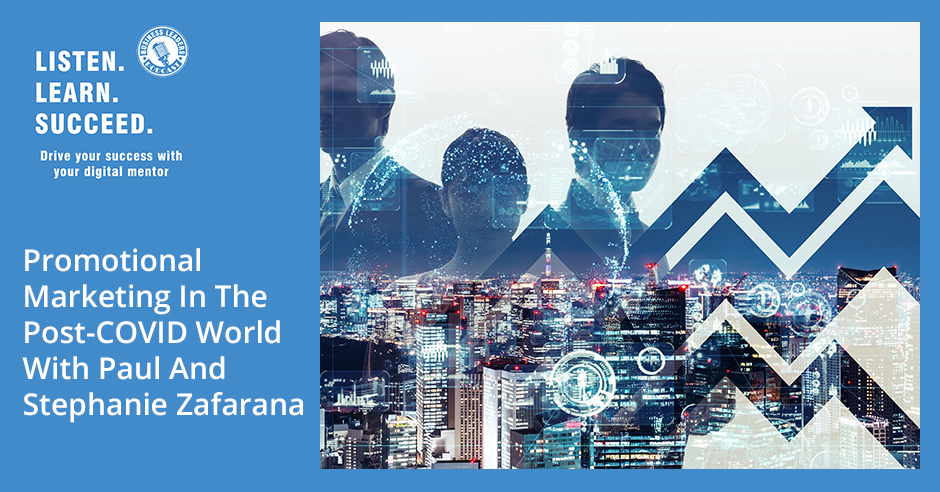 It is going to be a very different stage for marketing as we come out of the ashes of the COVID-19 pandemic and into a brave new world. To talk about what this pivot means for the promotional marketing space,
Paul
and
Stephanie Zafarana
of
Pica Marketing Group
join Bob Roark on the show. With decades of experience in coming up with innovative marketing solutions for businesses, Paul and Stephanie are experts in promotional marketing and spreading the marketing message using promotional tools and products. Listen as they talk about the future of promotional marketing in the post-COVID world and share some very amusing and incredible stories of marketing strategies that you never thought anyone could have pulled off.
—
Listen to the podcast here:
[smart_track_player url="" title="Promotional Marketing In The Post-COVID World With Paul And Stephanie Zafarana" ]
Promotional Marketing In The Post-COVID World With Paul And Stephanie Zafarana
We have a special episode. I have my good friend Stephanie Zafarana and her husband Paul on. They're from
Pica Marketing Group
. We're going to talk about marketing post-COVID pandemic and what they're doing to serve their clients. Stephanie, Paul, welcome to your episode.
Thanks for having us.
Tell us a little bit about the Pica Marketing Group and who you serve.
Pica Marketing Group was conceived in 2008. There isn't a better time to start a company. We learned a lot of lessons starting in such a crazy environment, but we incorporated it because we saw the needs that not only were our clients and people in the marketing community looking for innovative marketing ideas. They were looking for hard numbered returns. They were their board of directors and all of the people that they report to for real numbers. No longer was it okay to throw money at the marketing and sales department without any actual results. That is why we call it Pica Marketing Group because pica is a unit of measurement. It plays well to our audience. We work on serving nonprofit organizations, healthcare, and then manufacturing. Those are the vertical markets that we serve the best and we engage in a couple of different ways. We have some large clients where we're able to plug into their already established marketing department and be that outside voice. We're that different perspective to help them accomplish a particular project. Be plugged in to some of those smaller organizations that maybe have a person that's the office manager/marketing director. We become the marketing department for them, offering ideas, working and collaborating to get their message out, but doing that heavy lifting. It seems to work well for our clients. The great part is we find ourselves dealing with all sides of projects. Nothing's too big and too small. The more creative, the more fun we all tend to have. In the end, it is about results. We like to start the conversation with what you are trying to accomplish and work from there.
It's been an interesting time. We're starting to come out of some of the quarantine and restrictive movement events post-COVID. A lot of the companies, their worlds changed. What are your thoughts on these companies on, what they should be thinking about as far as marketing and spending money and both from their customer perspective and also how to keep their employees safe?
One of the biggest things that some people may or may not realize is back in the late '80s, early '90s when there was another recession that happened, a big player came out of that and that was Clif Bars. Those energy bars that everybody has. They were a big player in that and the time to spend on marketing and advertising is in these times. People tend to remember those brands that are out there that are there for them on a personal level. They tend to remember that they were there for them during this whole time. That's been a huge part of it. You want people to remember your brand in a positive light. You're in a unique position to make people feel that you're in the same shoes that they're in, that you're going through what they're going through. You can relate to them. You want to be relatable. You want to build that trust with people. Things that people intend to do now are holding back in their marketing when they should be spending it. We're in the process of developing our own marketing plan. It's different than what it's been, but we're figuring out ways to get that message out to people that are in their home environment where we may not have their home addresses that we used to have their corporate addresses. We're trying to gather that data and information to give them a unique experience. That's some of the stuff that we're seeing out there. Also trying to get the message out about what it means to operate in the state of things. From employee engagement and safety concerns and how do you plan to reopen? You have to have a plan. It's that old saying, "Failure to plan is planning to fail." You've got to have a plan. If you don't have something written down and follow the plan, then you're going to have a hard time out there. That's probably one of the big backbones or keys that we know as a small business utilizes is having that plan and writing it down and following it. If you keep following it, it will happen. That roadmap that you layout there will get you to the end, to the finish line out there.
I think about the general level of concern and uncertainty. Let's say that you're a business owner with a larger employee base. The employees, as I understand it, for some of the business brokers that I've talked to, many of the employees are reluctant to come back to work. Either it's an economic reason or they're afraid. From the business owner that says, "Not only do I need to take and communicate effectively with my client base, but I also need to be not tone-deaf with my employees and communicate." What type of things might you do on behalf of the business owner to communicate that to the employees?
We're in the age of transparency. You've got to be open in letting people know what's going on. You, as a business owner, are going to have similar concerns with them coming back and working in your location or whatever that's going to be. Getting that message out there, the marketing message that you need to have from as a business owner, we firmly believe that you tell people that message until you're blue in the face. It's at that moment that they're starting to get that message. The repetition over and over to tell them what's going to happen, "We're planning on doing this. The state may say that our shelter in place order is going to expire on XYZ date. Our plan is to move forward with this date and this is how we're going to do it." Laying that plan out for them is going to be helpful to over-communicate at that point to your employees, but also letting them know, "We understand that you may have concerns for your health and wellness when you come back. Here's what we've put in place for you to do that." We have put together sanitization stations, maybe some directional signage on where to park. Handwashing signage that goes out there that we have done for some local businesses here. Enter and exit signs that are giant twelve-foot flags that fly in the wind for those driving up. Even the social distancing dots that go on the ground, stand here, don't sit here and limiting the number of people in an elevator. Communicating that out there of what they should expect when they come back and how they're going to be paced out or the different working days they're going to be in or out of the office. As people have transitioned to working from home, some of those people are still going to be working at home and you've got to make them still feel comfortable that they're part of the team. Maybe part of that is in your marketing message, for those that are coming in to work, you've laid out these plans. You have masks and sanitizers, and whatnot. Those that are working at home, that may be a branded backdrop or depending on how crazy you want to get with it, maybe it's a baseball cap that they wear to let everybody deal with their quarantine hair that they're all having. It's a real thing that's happening. I'm due for a haircut myself. Having that ability to over-communicate to people and let them know that the business does have their best interest in mind as well as their customers that are coming into their shops. How do you do that through promotional products, whether it's a pen, a notepad or whatever that is? Those are tools. They're no different than a radio, TV, online ads, and any of that stuff. Like a good chef, you don't want to have to rely on your paring knife to prepare a gourmet meal. You have an arsenal of tools that you use to make that meal through your pots and pans. A selection of having a good team put together to get your vegetables, your meats and your wines and whatnot to prepare that good meal. Having a business from us from a marketing standpoint is no different. Having that group all pulled together to lean on that you're going to do the cleanings X number of times a day, and here's where you can go to get more information on that is going to be a vital part of the communication process. You can use promotional marketing to do exactly that and get that message out there. That's where we, as the experts out there in the promotional world, have seen a lot of benefits. We're seeing not only what's happening in possibly your industry, but we're seeing stuff from across the board because we touch on many different industries. We specialize in a certain number of industries, but through our networks are seeing how the manufacturing industry is doing things differently than the financial industry that's doing things differently than the restaurant industry. They're all vital parts of the economy to be up and running but they're all going to approach that messaging ever slightly different. How are they going to handle that workforce coming back from the small place that has 2, 3, 4 people to the people that have 30,000?
As I think about taking care of the employees, how do you take in and communicate the care that you reflect in your behavior for your employees? How do you take and share that message with your customers to let them know that, "We care for our employees as we care for you, our customers?" How would you see that working in concert?
You can utilize a lot of the other mediums out there too. We are a part of one cog in that wheel. If maybe you own a restaurant to give you an idea of it and I'm going to use a baseball cap. You want to communicate a way to utilize a promotional product, maybe if you had that and people were coming up or driving up and they were wearing that cap of your business, you offer them a discount on their order and some other stuff that goes along with it. That's a way you could use it as a promotional piece. You can use different printed handouts. Maybe it's a DoorDash or Grubhub with every order that goes out. As people are getting some of those meals and it could be as simple as a sticker. You get the package that you don't know you'd like to think people are honest out there and give them the benefit of the doubt. The bag that you put the food in maybe it's got that special branded label that goes on there that carries out that, "This thing was packed with tender, loving care with your health in mind as a consumer." As ways to give people some confidence in what you're doing because you're going through a whole different world in the food industry of somebody else bringing your food to you that you don't know. You've got to instill that trust. Trust is going to be a big thing coming out of all this from a consumer standpoint and working with brands that they trust. The different little nuances that you're putting into it where you don't necessarily have to spend a lot of money doing it, but it's the thought behind it. How do you instill that trust that you're able to deliver on what you promised?
Paul, we've been talking about your clients and their employees and the things that they're doing to address the changes. With their changes and so on, you have had to also pivot with what you're doing and how you operate your business. What does a pivot look like for your business?
A major pivot for us happened. The saying by Deepak Chopra, "All great changes are preceded by chaos." That's what we had to go through. Our industry pivoted from doing all the bags and the pens and other pieces that we're affectionately known for. A lot of our factories because of the relationships that we had already pivoted into making non-surgical masks. Those three-layer mass that everybody you're seeing out there wearing, we pivoted those factories back in January and February when this was happening overseas. The factories were already pivoting. It was starting to make its wave over here. A bag manufacturer that once used to make those non-woven or reusable bags of polypropylene ones had converted to making the masks for consumer-grade. That was a huge pivot.
You want people to remember your brand in a very positive light. Focus your marketing message on that.
Click To Tweet
We used to get branded sanitizers. You wanted your brand on there and you had a little toggle that went onto your briefcase and you'd go to a trade show and you'd walk out of there with 5 or 6 different branded sanitizers from somebody with a little spritzer. You throw them in your car and never thought about them again. As that stuff pivoted when I was calling one of our plans up and asking them a question about some other stuff, we said, "With sanitizers, that's a whole other animal out there." They sold out within 72 hours, eight months' worth of inventory and another 1.5 million bottles of sanitizer. You had a pivot and find out that you're having those conversations with people like, "You need sanitizer. Where are we at? How do we get this? How do we bring it in?" We were talking to distilleries to get it in and how to bottle it for us and private label it in that respect. You had to leverage a lot of your relationships. We had a mutual friend that introduced Stephanie and myself, helped us pivot. They were an ink manufacturing company and they had the ability to manufacture hand sanitizer. They were deemed essential during all this. We started talking to them and said, "What can you do?" They said, "We've got the raw materials here. We can start making sanitizer for you." We started doing and it was 500 gallons of sanitizer in bulk that we sold out. Having those connections to be able to pivot in that respect and having those relationships helped for us to pivot from all our usual factories that had the bags and the other sanitizers. We had to go and utilize our resources on it. We pivoted from that. We also had a pivot as we're talking about all the PPE stuff in there. Everybody was going, "You're going to work from home now." We had to figure a way out of going, "How do we get stuff out there?" People were being told within 24 hours, "Pack your stuff up, you're working from home, whatever you're going to need because you're not coming back into the building until we don't know when." It's like you're being escorted off the job and it's stressful. It doesn't matter who you are, but you're being told that this where you were at, what was home for you. It got uprooted and you had to work from your house with your family. Maybe you've got kids and a pet. You had to figure out what that meant. We talked to send stuff over to people in their offices. We now had to have the corporate standpoint of, "How do you make the employees feel comfortable at home? How do you make them feel that they're still part of the team?" It's a paradigm shift for a lot of folks that weren't used to ever working from home. They were used to having that one-on-one around the water cooler stuff and not having those collisions that would happen in the office. You go to the water cooler, you grab us lunch or whatever. We had to help pivot with that. We were talking with people branded mouse pads, webcam covers, headphones and web cameras. How do you get that out to everybody and how do you get that message out? Creating letters and inserts that would go through into those packages to let the employees know that, "Yes, they were indeed valued." We pivoted that way in creating these work-at-home kits. Stephanie did some stuff we worked with some of the local schools. We happen to be affected with our son from a graduation standpoint and we had a pivot on coming up with graduation kits. What did that mean for the school? They're going to graduate. How do you keep them engaged from the yard signs that they were doing to mailing stuff out to each one of the kids and letting them feel, whether it was socks and the spirit wear that the schools were using. We had to get creative. You had to dig deep.
You had to move quickly too.
There were a lot of four-hour night's sleep and if you want to call it sleep. You had to get creative with it. As these things came out, I've found working from the home office, I slept in my office here on the couch because I was up putting stuff together for hours on end. You go down that rabbit hole and like, "We've got this stuff pulled together. Here's what's usually cool and let's do this." You're feeling like a mad scientist pulling all this stuff together and trying to show people that there is light at the end of the tunnel. There is a way to get this message out there. Think about different ways to get that message out to one, whether it was a school, so let the students feel included, and because their lives and their parents' lives got disrupted. Those that were graduating, how do we get them involved? You had all the other nuances that were happening from the work at home people. You had to do all different things at once to pivot. If you look at our social media stuff, we put together different kits like that during that time. If you go on my
LinkedIn
profile or if you go on our corporate
Facebook
page, you'll see the fruits of those labors on ways that we were trying to get out there and show people a different way of thinking. Instead of going, "We throw our hands up in the air, we're good. They'll be fine." People didn't want to feel like they worked in these silos and were disconnected. Everybody wants to feel loved and connected. We had to think about it from a corporate standpoint and what that meant from a promotional marketing standpoint to keep people feel loved. We used to joke with the boys that they ever fought. We had an oversized t-shirt and we'd say we'd put them both in one t-shirt that would say, "Hug it out," on their front of it. There are ways to do that.
As you talk about all the instances and examples, for many of the people that are reading, they're going like, "How about some examples?" You and I and Stephanie, we were all talking about some of the things that you have done that maybe will stimulate a thought process for some of the people. We talked about cloud service that has something to do with pizza and something to do with plumbing. If we could, why don't we work our way through those examples, and maybe we can paint a mental image for some of the readers about how you guys can help them approach an effort?
Some people see stuff and they see a pen, a mug, a t-shirt or a hat. Our job is to help them think about it differently. What does that mean to you? I'll give you one. We can help plug and play from our marketing team standpoint, from a small budget, a couple of $100, up to hundreds of thousands of dollars. We've done programs at both ends of that spectrum and anything in between. I'll give you examples of all three. We did a pizza one. One of our sales reps did a pizza piece and this one was designed to go after a small number of companies. Instead of coming up with this elaborate marketing campaign, we kept it simple. Because they were a small company and they had limited resources to go out and acquire the business, it was for twelve marketing directors. We sell marketing. This was going to marketing directors. How do you get in front of them? You had to be unique with it. What we came up with was we did a custom branded pizza box that had a slice of marketing. We did a graphic inside that simulated the ROI on pizza, but taped down inside of it is we did a pizza cutter that was personalized to the recipient. Bob, you would've had your pizza box that had your name on the pizza cutter. What would happen after that is, we contracted with the local pizza delivery guy. We gave them the box, we gave them the order to deliver a cheese pizza or it was cheese pizza. That was delivered at
11:00
AM to each one of the recipients one every day. It wasn't a big-time, suck out of your day to go, "I've got to do all these sales follow up calls." You had to make one call. At
11:00
, the pizza would get delivered. The person that was the recipient would go, "What do you mean I got a pizza and they got delivered to me?" The customer's contact information was inside of there and they had this cheese pizza. It was different. It was unique. It was a way to get involved and engaged. What happened with that is it went on for twelve days. It's not a crazy budget piece and a whole lot of follow-up to do, but it worked. It got a 100% response rate and generated over $27,000 in new business off of that little bit. From an annual standpoint, that had netted the first year over a $100,000 in sales.
For the recipient, twelve days in a row, you got a pizza.
It's with twelve different recipients.
There was a pizza to a recipient each time.
We targeted twelve different marketing directors and each marketing director got a pizza. The salesperson could go in and make that call, follow-up or whatever needed to happen with it. It was a twelve different person pizza experience.
In your mind, what was the most memorable comment that was made by one of the people that received the pizza?
It was unexpected and it was unique. That was probably the biggest thing out of it. When they called them up and they said, "Why did you take my call?" They said, "Nobody's ever done anything like that before." It was unique versus calling them up on a phone. We got their attention. We got it in a unique way and he didn't have to spend a ton of money to do it. You had that. That was the pizza one. Another one that was for a larger program. We tend to do a lot with the trade show world and driving traffic into the trade shows, trade show booths and getting a big bang for our buck for our customers and clients. I had one of our clients call us up and came to me and said, "I've got a $50,000 budget for a trade show. We're expecting 50,000 people at this trade show. I need 50,000 $1 items." Most people were like, "Yeah, no problem. I'll get to 50,000 pens or whatever." I have the phone and I said, "I don't want the business." It's like, "What do you mean you don't want the business?" I said, "Is that the best use of your time and best use of your money?" Let's face it, your CMO is looking for a return on investment. If I were to spend $50,000 on marketing for the trade show, I already had the sunk cost of the trade show. I've got staff. I've got this and that. I don't want them sitting around in my booth and I don't want a lot of stuff leftover. I need an ROI on it. He looked at me and chuckled. He goes, "Most people won't do that. They won't tell me no, they don't want the order." I said, "I'm telling you, no. Let's think about your budget. What are you trying to accomplish out of all this?" He laughed and he goes, "What do you propose?" I said, "Here are my thoughts on it." We did a three-point email touch campaign prior to the event. We did a direct mail piece and you're going to laugh at this, it was a pen. We pared back their mailing list and got ahold of the show. We found out by looking at the list of what the job titles were that were going to be there for the registrants. I had a good idea of who was going to be there. Instead of going out to 50,000 people, we revamped the target on it and said, "Let's go out to 2,500 people." He goes, "Now, we're talking. I'm going to do 2,500 $20 items that I'm going to send out." I said, "No." He goes, "Why wouldn't we do that?" I said, "You're going to get a response rate on that." For those that don't know, an average direct mail response rate on stuff is 1% to 3%. Any of the coupon books or any of the stuff that you send out in the mail, it gets stacked up and it has a 1% to 3% response rate on it. Three percent being you hit it out of the park with a direct mail piece. We did this one that was considered a lumpy mail and lumpy mail doesn't typically sit on somebody's desk for any period of time. Why? You can't keep piling stuff up on it. You generally take notice of it more and you look at it and to check all this stuff out, you're like, "This is a little bit different," and having a call to action. When this was all said and done, the reason we came down at 2,500 is we said, "Let's go off of normal metrics on 3% on what that's going to be from a direct mail piece," because he didn't want to go any higher than that. I'll tell you where we ended up with when it was all said and done. Maybe it's 100 people who are going to come by the booth. They had a staff of eight for the booth. As we got talking about, I had to tell them that, "If you have eight people at the booth and you're there for two eight-hour days of the show, how much time are you going to spend with these people ideally at your booth?" You're going to spend X number of time, X amount of minutes with them, and what did that equate out to? How it was with their original request of a virtual impossibility that you can meet with as many people as you wanted to because you do want it staffed up for it? Talking them through that to give them a better idea of, who is going to be there and who we wanted to target? With that, I think it was around 450 people redeemed. Give or take, ten people in there out of 2,500. The whole thing was you got this pen in the mail, you came by the booth and you showed them, we had a call to action built into the mailer that was with the pen, but you had to bring the pen to the booth. You would have a conversation with people and after you went through your sales pitch with them, you were granted or rewarded for your time an OGIO backpack, a $70 backpack. It was a nice thank you. We had stuff for what we call the tire kickers. Those that came up and didn't want to do the conversation. They had their flashlights and their other little stuff that was the tire kickers that came by the booth. We affectionately like to call them the scoopers. They come by your booth, see what you got and fill their bag up and move on. We wanted to have those meaningful conversations. Once we figured that out and they did about 450 people that had gone through and redeemed, they had 450 qualified leads. We said, "That's fantastic. What are you going to do for post-show and what do you want to follow up with?" They hadn't gotten on board with that and they admitted that was part of the step, but they didn't want to do it which is okay. It was a budgetary thing, but I said, "What I want you to do with those numbers when we started this is, I want you to track the people that come out of the trade show that we've talked to you about. You've taken this 50,000 people to funnel down to 2,500 down to 450. That 450 are active hand-raisers. They're actively engaged with your brand and want to know more about it. I want to know what happens with those 450 that you have. I want you to track unique sales that come out of that because all these people that were coming in out of that were unique to them." After nine months' worth of sales when they tracked it all back, because we did this at two different shows, it netted them $42 million and $44 million in sales.
That's almost as good as 50,000 pens.
We've done stuff like that. We mimicked that same program. We found out through another set of details that we ran the names against from some of our lists that we scrubbed against, that we had a group that had a strong military background. We did a similar program to that. Instead of a pen, we used a military challenge coin in a similar fashion and netted them a similar result of that. Using that from a direct mail standpoint that was a lumpy piece that was targeted with a call to action and laying out a plan. Rethinking their budget and how they were going to approach it changed their mind on it. They've been clients of ours for five years and they keep like, "It work, let's do it again." We tweak it and change it up and change the offer up. Given the state of affairs, we're going to end up changing it all up again, because we're in a whole new way to approach all this.
I'm one of those two clients that had this benefit from a trade show and goes, "Paul, Stephanie, I've got a problem." "What's that?" "I can't have my trade show, but I still need to do a trade show." Given the targeted marketing, 50,000 people coming through, not all 50,000 are your client. How would you imagine that you would pivot this type of offering to try to approximate the same result that you had? What would you do?
We're having those conversations. People are planning out for October, November trade shows. We have to think about it differently. We're having the conversation off in the planning portion. You have plans A, B, C, D, E, F and G. How do each one of those play out? We're talking more on the strategy side of this stuff now than we ever have because the trade shows are going to be different. They're going to be different from the standpoint of whether or not they're going to happen. What are they going to look like? How much of them are going to be in person? There's going to be a unique opportunity going forward that if we are able to meet in person, we have to be able to pivot that way to get folks to meet with you when they come out there. How are they going to feel when they come to meet with you at the booth and after the show and all the usual stuff that happened with the trade show? You have to pivot that way and plan that way out. Whatever state you're in, your state shuts down again for whatever reason, we don't know what's going to happen or what the future holds. Your state shuts down, my state's open and the location or venue state has restrictions. What does that mean and how do you get ready to pivot with that? There's going to be what we call a go-no-go date that you have to be able to move around.
Tell people your message until you are blue in the face, and by that time, they're only starting to get it.
Click To Tweet
How are you going to host through, maybe it's an online trade show which is becoming increasingly popular? I've been to a couple already for our industry because it's been a pretty prevalent shift with all these private meeting rooms and the whole trade show experience. We're able to help put these on. We look at them differently so that mailing list of people that are registered for that trade show, if they're not able to meet in person, how do we host that trade show going forward? Do we do a kit that goes out, have those one-on-one meetings, mail that kit out to them at their house, keep them engaged and still do a similar thing, where you pare back and scrub your list on who those people are that you want to talk to? Yes. We have to think about it a little bit differently. Our company is able to do that and pivot from that standpoint on how we can help you do that. There's an ongoing movement with cause marketing. People want to know where their money is going. Maybe it's something that you may not outright want to give your money to whatever organization it is. You find out that by buying that water tumbler or the trade show handout piece that a certain portion of those proceeds goes to helping wounded warriors, veterans or the environment, whatever your cause that you want to support. You know that part of your proceeds is going to do more than just, "You've bought this mug, bottle and this piece to here and out for it," but there's a story behind it. The storytelling is going to become a vital part of that trade show experience to tie back in that people can go out and see the video of, "Over the last little bit, nobody wants to be the first one through the door because you'll get a bloody nose." See what other people have learned by doing it and the results that they're getting out of it. How do you host that going forward because that's what's going to happen. We have to be able to adapt to it and think about what that's going to mean.
I saw a fundraiser and we were talking about this for a nonprofit. They did a talent that was a country music singer and they had some local hosts and the whole fundraiser. It was all virtual. It was much like that one on TV with all the artists that came on to do fundraisers for the frontline support people. That technology and we all are now Zoom warriors, I suppose, whether we want to be or not. I think about the sophistication of the breakout rooms. How do you deliver value? If we've all been doing Zoom for a while, the newest worn off on Zoom. It's like a hammer. It's another tool. For the people out there, you and I were talking a little bit about a cloud example.
We had two weeks to turn that program around. It's a similar type of scenario. They were in the cloud-based computing arena. They sold software and they were targeting the restaurant industry to sell them their software. They came to us and said they have a $10,000 budget. They wanted to spend $100 per person to talk to them. Part of the conversation that happens on all this stuff is we don't want to throw stuff out there and we want to talk more taxes. What are you trying to do? Why are you trying to do it? What's going to be the result out of it? That ROI that we've talked about, people are being held accountable for that. They came to us with a budget and we said, "You've got $100 per person." They said, "What do you have? What can you come up with?" I said, "How many people are you hoping to get out of this? If you do, what's it worth to you?" They came back and said, "Out of this $10,000 budget, if we can get one person, we've made our goal." One person, they wanted out of this whole thing, because that one person was worth $250,000 to them. I'd like to add on that, on this particular one. They were targeting C-Suite employees. They were high-level CEOs and presidents of major food organizations and restaurants. To get their attention, everybody wants a piece of their attention, it's incredibly difficult to get their attention. That also is part of the magic of what we came up with. We came up with this box that was roughly 18 inches wide by about 6×2 inches deep. We called it the Cloud Box. Inside of this box we detailed out all the key players. We had their imagery printed on the inside cover. We did a letter with the invitation affixed to the cover of it. Everything else on the inside or for the guts of it was all clouds and cloud-based. We had an umbrella that had clouds on the bottom side of it. We had a plush stress cloud. We did a weather station that went in there. We did a power bank when power banks were starting in the market. We did a custom cloud-shaped cookie. We talked about all that stuff in the messaging that was inside of the box. The outside of the box was a blue box. There was no branding on it from a corporate standpoint. They got this bright blue box with white clouds on it and it said, "Cloud Box." You have no idea who it's from. It looks inviting, you get it and they opened it up. The results of that with the call to action and the meetings that they had on it was, remember I told you they'd be happy with one person to sign up based off of this, they had six. They were elated that had happened.
Did you get any feedback from the recipients of the boxes? Did you hear any of the feedback?
Unfortunately, we didn't. We were looking for the results on what got them to engage with it but they were more than happy with that because their expectation was to get one.
I've been the recipient and is shock and awe. It's when one guy calls in and says, "Do you want to come in?" He goes, "What is this?" You open it up and you're genuinely surprised and it's on your desk and you go, "What am I supposed to do with this?" It's effective. It's different, particularly if it's targeted. What I appreciate from this conversation is you're looking at the budget and the return on investment from the budget. It's not this touchy-feely. I've got a banner, I've got this mailer that who knows what it did. That's something that I appreciate as a business owner. Before I get too far down the road and forget to ask, for the people that are reading and going like, "That sounds like the solution to my problem," how do they find you on social media?
You can find myself or Stephanie at Paul Zafarana or
Stephanie Zafarana
on LinkedIn. We're on Twitter
@PicaMarketing
and on
LinkedIn
. We are on Facebook at
Pica Marketing Group
, which is trying to keep up with all the different social media out there. If they want to find us on the web, it's
PicaMarketingGroup.com
.
You can find some of the things that you were talking about, some of the boxes and examples that are on your
Our Work
drop-down menu so they can take a look at some of these things that you guys have done.
Those are our work. If you can see on there too, we've won a number of awards. It's not just us saying that this stuff works. Over the course of the years, we've won over twelve international marketing awards for our efforts. These awards, we don't go out looking for them. That's not what we're here to do. They've been a result of the hard work that we put in to show our clients what we can do. They're judged. It's not a matter of sending in your entry and you automatically get an award. These are judged by our industry peers on a blind panel. They have no idea who we are when they send this stuff in. We've won a number of gold awards and silvers for that by showing people how to look at their marketing and how to get some great results. At the end of the day, you've got to be able to justify the expense, and what did you get out of it? Whether if it was hard to sales numbers out of it when it was an appreciation for employees that have decided to come back. All that stuff is on our homepage there. When you work with us, you're working with an international award-winning marketing company. We match some people that slept at a Holiday Inn.
From the conversation, I've talked to marketing firms off and on through the years. The part that I appreciate from this conversation is one, illustrations of how we approach the problem. I liked the method that you do to establish, rather than say, "We can send out 50,000 pieces. Here you go." I doubt the outcome would be remotely close to what they were looking for. That's like walking into a doctor's office and says, "Excuse me. I'd like to have an appendectomy." You go, "No. What would you like?" "I'd like to solve the problem." For you, it's understanding the diagnosis and applying what you know to solve their problem. I appreciate the fact that's what you do.
For the people that are out there, they go like, "We've got some problems. We'd like to reach out." I would encourage you because the worst thing you can do is not call. The call is at no cost. You reach out and say, "Here's our problem, here's our budget. What can you do to help?" My sense in this environment is, people are fairly emotionally charged and I think that some of the stuff that you do will leave a lasting memory for years to come. Character is defined by what you do in tough times, not in the easy times, which brings me to my last question. Whether you're looking over the businesses that you've been talking to or looking at your own business and you go, "We've gone through this event." What do you think are the key 1 or 2 takeaways for your business and going forward from this shutdown COVID event?
When we think back about all the hurdles that we had to leap over as a small business, the biggest learning for us is to turn off the noise. Focus on our core values and competencies. Understand how those can apply as we move forward and try to spend some brainpower on what it's going to look like. We might not get it 100% right and that's okay, but to be able to focus on what we have control of and not what we don't. Paul and I never wanted ever to feel like a victim. To empower the gray matter between our ears by understanding what we can control and then bringing that insight to our clients as best we can. Even through those moments of darkness for me, that's our biggest that we've taken away from this event. Can I add to that stuff? Of course.
You're looking for the last word.
Patience, if you look at it that we all survived post 9/11. It brought about when you're traveling the changes through TSA. You had to go in and plan a little differently to go through the airport and go on a trip. You had a plan to put your three-ounce liquid in a clear bag and what did that mean for you? You have to plan and approach things a little differently and be patient. Look at it that way. Having a good team to surround you through your contacts because rising tides raise all ships. You want to have a good team to help support you, whether it's through family, business connections, and even your bank. You want to make sure that you've got a good support system in there to help you put your money where your mouth is and move forward with stuff. You're right, Paul. It sums it up and your network of people has always been important. I felt like before the COVID, relationships were out of vogue. I'm hopeful because they've always been important to us that they'll be back in vogue relationships and building that network and continuing to understand that people are here to support, as much as we want to support those important to us. They want to support us as well and that's how we have to move forward.
Stephanie, Paul, I appreciate you taking time out of your busy schedule. I do appreciate the approach that you take to determining what the client's looking for and how you can solve the problem. It's been a joy. Thank you so much for your time.
We appreciate you having us on.
Take care.
Important Links: