Get Connected with Direct Mail Ideas and Gifts
In a digital age, many people think that traditional marketing is dead. But with social media posts only being seen by approximately 2% of your audience, traditional marketing is making its way back on the scene. Although, it might look a little different than it did in years past. Welcome to the Age of Direct Mail Gifting. With the emergence of social media influencers, we started seeing "Unboxing" posts – an experience in which a social media account, that has a large number of followers, receives a kit full of goodies from a brand and reveals all of the products that are within the box. Receiving a box full of gifts in the mail from one of your favorite brands is a welcome surprise. Over 80% of companies that are using these types of direct mail marketing campaigns state that it has benefitted their relationships with the customers, employees and prospects. (source: https://www.inkit.com/blog/boost-revenue-with-direct-mail-ideas-and-gifts). In the branded merchandise industry, we have hundreds of mailable themed kits that can be shipped to your audience. Here are some of our favorite themed mailers:
Warm Welcome Gift Set
Includes Moleskine Ruled Large Journal, Double Wall Stainless Tumbler, Gel Retractable Pen, and a dark chocolate seed bar.
Igloo® Team Spirit Cooler
This popular cooler with an abundance of gourmet treats makes a perfect celebration gift and will be used long after the goodies are gone. The 36 can capacity Igloo Seadrift Snap Down Cooler features honey crisp granola, berry nut mix, savory snack mix, caramel popcorn, sweet and tangy mustard with dipping pretzels, Tuscan pizetta biscuits and irresistible oatcakes
Stonewall Kitchen Farmhouse Breakfast Gift Set
A traditional New England breakfast is a memorable hearty feast and we've included everything needed to start the day off right. We've included everything needed to start the day off right with the aroma of Vermont Coffee, Farmhouse Pancake & Waffle Mix, Maine Maple Syrup and Wild Maine Blueberry Jam. This bountiful and delicious breakfast includes two of our sleek Soleil Ceramic Mugs (4.72"L x 3.94"H x 3.15"W), individual mug boxes included.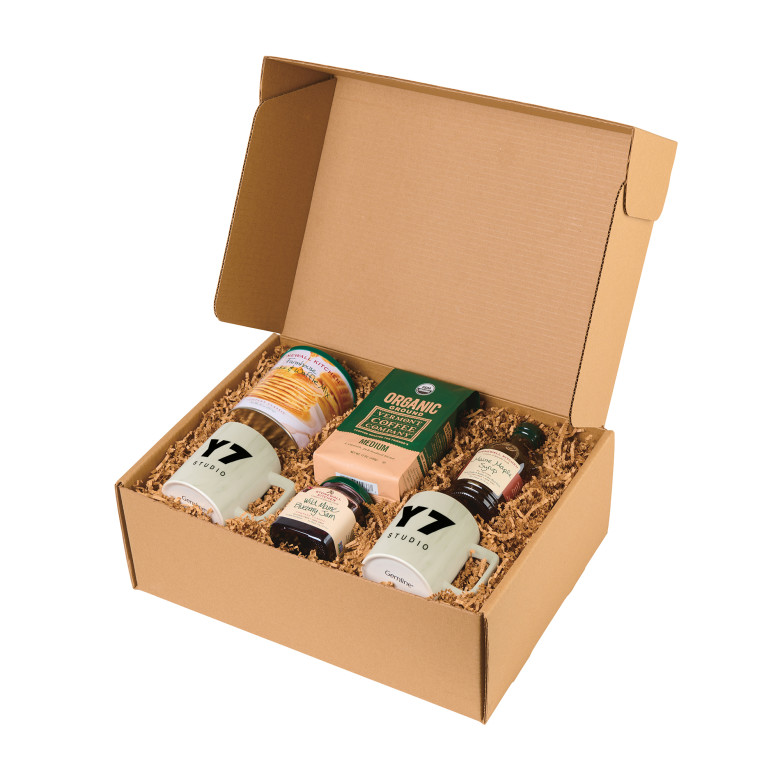 CORKCICLE® Whiskey Business Gift Set
A fine gift for the whiskey aficionado, this cocktail theme gift will be appreciated at the end of the workday. Is it 5 o'clock yet? This handsome leatherette box includes a CORKCICLE® Whiskey Wedge Glass, W&P® Craft Old Fashioned Bitters, Long Grove Savory Snack Mix, East Shore Dipping Pretzels and Sweet & Tangy mustard and J&M Cheddar Cheese Straws. The CORKCICLE® Whiskey Wedge is the artful way to perfectly chill your favorite spirits and the ideal glass for anyone who enjoys smooth sipping. The useful storage box for home or office can be debossed for a subtle and elegant keepsake.
XOCHITL SEA SALT TORTILLA CHIPS 12 OZ BAG
DESERT PEPPER CORN BLACK BEAN RED PEPPER SALSA 16 OZ JAR
DESERT PEPPER CHILE CON QUESO 16 OZ JAR
PALACIOS – HOT CHORIZO 7.9 OZ
Curated by our in-house gourmet team, these gourmet gift boxes are sure to please, Customize inside label for the perfect presentation, Available to dropship or ship in bulk! Pair with an apron for an extra special presentation!
Stubb's Original BBQ Sauce 18 oz bottle.
Bone Suckin' Sauce.
D&A Spice Mills Pink Himalayan Salt 3.13 oz.
Blue Diamond Habanero BBQ Almonds 1.5 oz bag.
Black Apron with your choice of stock imprint only, stock imprint plus your customization or your customization only
Unwind Gift Set
Our Unwind Luxury Spa Gift Set will let them relax, de-stress, and really get in the mood…to appreciate your thoughtful brand, of course! Their excitement will be piqued when they receive your branded, Boxcar custom gift box—full of personalized messaging from your business. Their senses will delight at the bright, invigorating lemon verbena scent of your branded 7.5 oz pump soap, 4 oz bath salts, and 1 oz room spray. They'll feel moisturized with skin-quenching 7.5 oz lemon verbena lotion. Nothing says thank you, we appreciate you, and we care about your self-care better than this luxury spa-day in a box, well-stocked with quality products made right here in the U.S.A.
MiiR® Camp & S'mores Gift Set
The MiiR Vacuum Insulated Camp Cup-12oz is paired with The Original 1927 S'mores Kit and N'oreaster cocoa for a unique thank you, welcome or all occasion gift. Partake in this artisanal, mouth-watering version of a classic American treat. All grahams and marshmallows are handcrafted from scratch using ingredients from local purveyors that provide extraordinary products.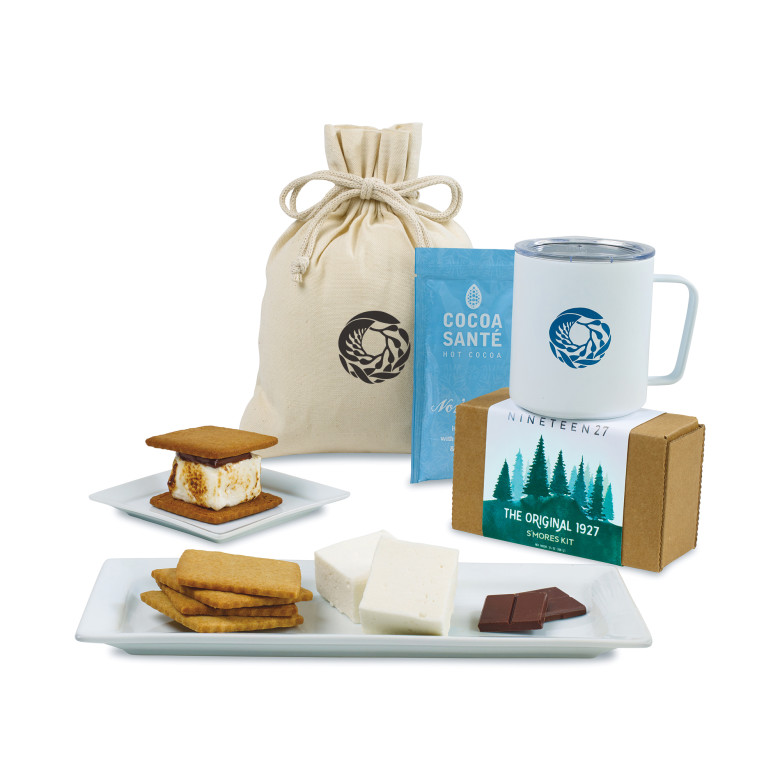 Now that you have some awesome ideas for your direct mail campaign gifts, you need a company that can help organize all of the details. Managing a direct mail campaign takes an experienced agency that can take the work off of your plate and handle all of the details. Ready to get started? Let our team at Pica Marketing Group handle it all for you.